From time to time, we highlight non-profit organizations, foundations and campaigns with which we feel connected and which make the world a little better with their work. Today: Elaine Bannon talks about her non-profit organization Light of Maasai.
***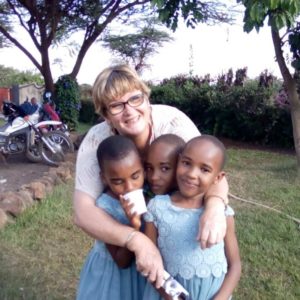 Light of Maasai is a registered charity in Ireland and a registered community-based organisation in Kenya. Following a holiday in Kenya in 2002 I, Elaine Bannon, decided to leave my Managerial job in Ireland to volunteer in Kenya for one year. The year was spent at a school in Mombasa. During this time I became friends with a group of Maasai who invited me to visit their home area of Rombo. The village is situated between Amboseli and Tsavo National parks and is at the foot of Mount Kilimanjaro on the Kenya side. The area is inhabited by the Maasai tribe who till today live a very traditional life style. Their homes are still made from mud and cow dung with beds made from cow skin. The biggest source of income is from their animals (cows and goats). Women and children go every day to fetch water from streams and rivers and children are still taken out of school to mind the animals during times of drought. Many children do not attend school as the parents cannot afford the small fee of less than 50 euro a year.
Having visited Rombo a number of times with my Maasai friends they eventually asked me to consider moving here to set up a small charity and do the work I was doing in Mombasa. That was in 2003 and I am still here. We formed our registered charity in 2007 and with help of friends in Ireland raised money for project. We have no staff or offices, everyone who helps us do so on a volunteer basis. In Kenya we are 3 people, myself Elaine and two Maasai friends Jonathon Kipanu ole Nampa and Joseph Nkanoni ole Lempira.
Over the years we have completed many projects. Our efforts are in water, health and education. We have constructed 16 classrooms and started 3 new schools. We have provided teachers housing at some schools as well as toilet blocks and hundreds of desks to over 20 different schools. In the area of healthcare we have started 2 new clinics in remote areas giving many people, who previously walked long distances to access health services, a local facility where health care is free.  Over the last two years we started an eye clinic and are testing the eyesight of every child in every school in Rombo. Those who need spectacles are given them for free. This is a project sponsored by Rotary Clubs in Ireland who have been very helpful to us over the years.  Our water projects include 3 bore hole projects where water was drilled to a depth of over 240m as well as pipe lines and shallow ground wells.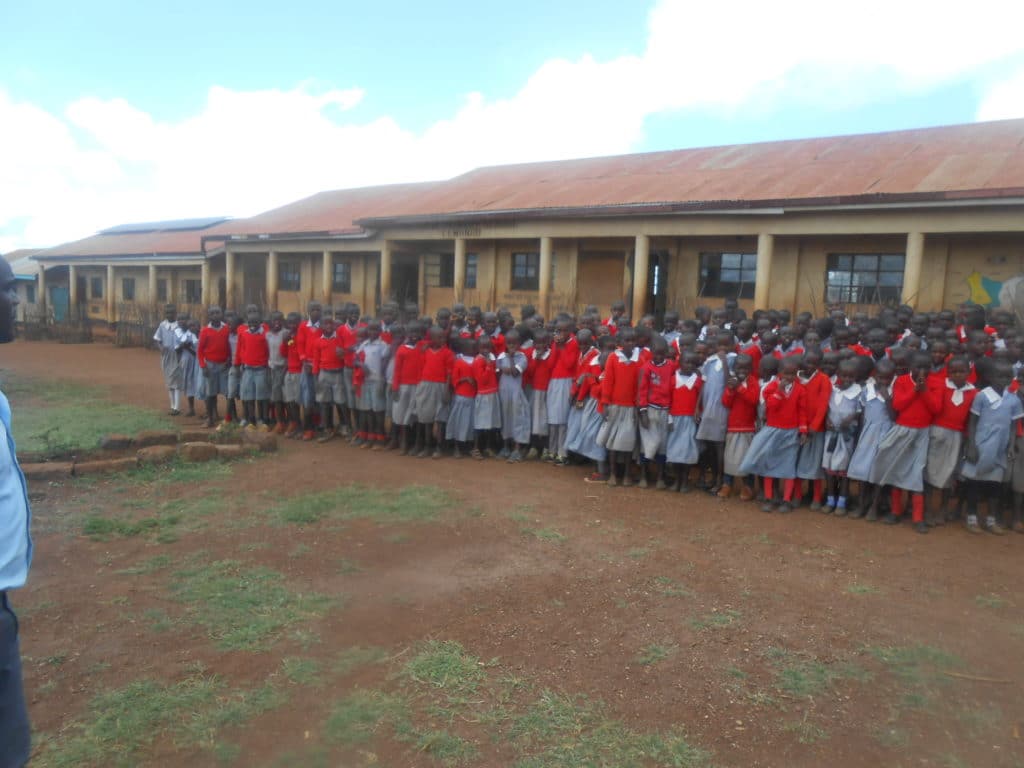 All Light of Maasai projects are wholly owned by the community and staffed by government employees. Once a project is complete Light of Maasai can move on safe in the knowledge that the projects are self-sustaining.  In the years since we began we have educated over 800 boys and girls through primary and secondary as well as assisting another 50 through college or university.  Nurses and teachers educated with funds from our sponsors are now working in the local facilities and serve as a good example to others on the benefits of education.  With FGM (female genital mutilation) still being practiced by the Maasai we have over the years carried out many educational seminars on the dangers of this practice. In reality it is hard to stamp out but we know from experience that education is the key. Once educated, boys and girls can see the reality that FGM is a dangerous and unnecessary outdated practice.
We operate a volunteer program which allows people to come and see where funds have been spent and take part in projects also.  Volunteers can do anything from teaching to digging trenches or helping with a building projects.  We have a purpose built house which can accommodate up to 12 people although we prefer to have smaller numbers so that we can give each person a more personal experience.
In these crazy time which we are currently going through Light of Maasai is suspending both the volunteer program and proposed construction projects.  We don't know how things will go here in Kenya with Covid 19 but we pray that the numbers do not become as big as elsewhere in the world. Our local health centres are not equipped to deal with a virus such as this.
When this pandemic passes, and it will pass, I would like to invite you to visit us here in Rombo and experience Maasai culture and a different way of life. Meantime stay safe.
– Elaine Bannon
Get more information about Light of Maasai:
© images: Elaine Bannon